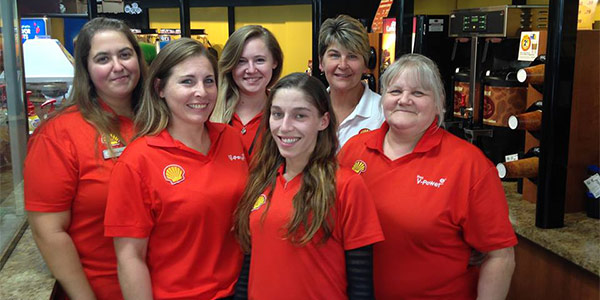 When you're on the go, it's important to find a safe and convenient place where you can purchase food and fuel in Waupaca, Rural, King, Cobb Town, and Little Hope, WI. At Nelson's Shell, we're committed to making your stop as enjoyable and efficient as possible. With an assortment of gas and fuel options and outstanding rewards and promotions, we love making our customers' experience as good as possible. We're not just any gas station; we're your favorite gas station. Our services include:
Multiple fuel options: If you're looking for a great place to use gas cards, visit Nelson's Shell. We are proud to offer outstanding fuel at consistently competitive prices. You can choose from an assortment of fuel options, including regular, premium and premium plus. Additionally, we also offer diesel fuel. With a bank of fuel pumps that are easy to navigate and a variety of payment options, you can be sure your visit will be convenient from start to finish.
---
Shell Fuel Rewards: A frequent visitor to Shell stations? Have a gas card with us? Consider enrolling in our Shell Fuel Rewards program. This promotion provides the chance for customers to win free gas or food simply by refueling regularly at Shell. We make it as easy as possible with great rewards from gift cards to discounted purchases. Visit our Facebook page to learn more.
---
Tire air: In addition to our quality fuel, we also provide air for when you need to give your tires a little life. With easy payment options and simple functionality, this is just another one of the ways we go out of our way for you.
---
For the commuter on the go, Nelson's Shell is here to make your life a little easier, whether it's with gas or the convenience of a quick bite to eat. If you have questions about our fuel options or rewards program, give us a call at 715-256-9260.